Ingredients: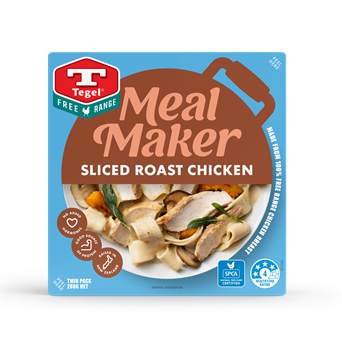 2 courgettes
400g dried pasta – we used fusilli
100g basil pesto
1 lemon, zest & juice
¼ cup pine nuts, toasted
Basil leaves to serve
Method:
Grate one courgette and slice the other into rounds.
Heat a big splash of olive oil in a large frypan over medium-high heat. Add the courgette rounds and pan fry until golden and soft. Season with salt and set aside.
Cook your pasta in rapidly boiling salted water until al dente. Drain, reserving about ½ cup of pasta water.
Return the pasta to the pot and place back on a low heat. Add the chicken, grated courgette, pesto, lemon zest & juice and reserved pasta water and toss until the pasta is well coated. Finally add the pan-fried courgette and gently toss to combine. Taste and season again with salt & pepper.
Transfer to a serving platter and garnish with the toasted pine nuts and basil leaves.
Tips for Courgette Lemon Pasta:
Rate this recipe
Share this recipe