Ingredients: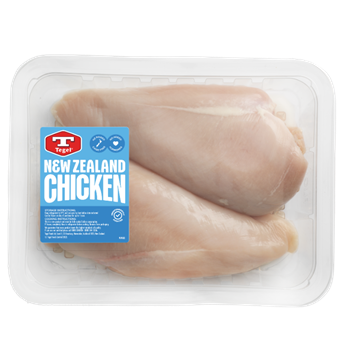 1/4 cup ricotta
1/4 cup sundried tomatoes, drained and chopped
2 tabelspoons basil pesto
2 tablespoons olive oil
1 teaspoon Tuscan seasoning
Method:
Preheat the oven to 180°C.
Combine the ricotta, sundried tomatoes and pesto in a small bowl. Season with freshly ground black pepper.
Place the Tegel Fresh Chicken Skinless Breast on a board. Carefully separate the skin from the breast with your fingers. Push a quarter of the ricotta mixture underneath the skin of each chicken breast.
Place the chicken breasts skin side up in an oven dish. Drizzle with the olive oil and sprinkle with a little Tuscan seasoning. Bake for 25 to 30 minutes or until the juices run clear when pierced with a skewer. Remove from the oven and allow to rest for 5 minutes before slicing.
Serve sliced on a bed of roasted vegetables such as red and yellow peppers, eggplant, red onion, tomato and basil. Drizzle with the pan juices.
Tips for Mediterranean Roast Chicken Breasts:
Rate this recipe
Share this recipe