Ingredients: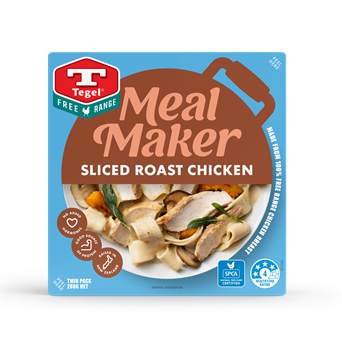 SHOP WITH MENUAID

1 eggplant, cut in chunks
1 punnet cherry tomatoes
1 courgette, sliced in thick rounds
1 red capsicum, sliced in strips
1 red onion, sliced in wedges
400g dried pasta of your choice – we used rigatoni!
1 clove garlic crushed
1 teaspoon dried oregano
2 tablespoon tomato paste
Basil & grated parmesan to serve
Method:
Preheat oven to 220°C.

Place the eggplant, cherry tomatoes, courgette, red onion and capsicum on a large baking tray. Drizzle with olive oil and season with salt & pepper. Roast in the oven for 20 minutes, until soft, golden and caramelised.

While the vegetables are roasting, cook your pasta in rapidly boiling, salted water until al dente. Drain, reserving about ½ cup of pasta water and set aside.

In a large frypan, heat a drizzle of olive oil over a medium-high heat. Add the garlic, oregano and tomato paste and cook for a minute until the garlic is fragrant and the tomato paste is deep red. Add the pasta to the pan and stir through the reserved pasta water. Continue stirring over the heat until the sauce is thickened and coating the pasta. Add the chicken and roast vegetables and gently stir until warmed through.

Serve immediately with a sprinkle of parmesan and basil leaves.
Rate this recipe
Share this recipe