Ingredients: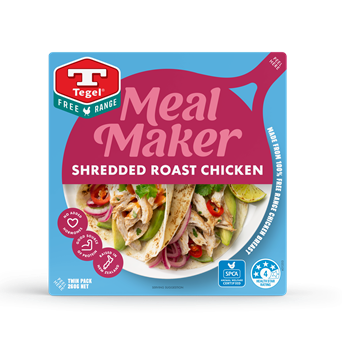 1 bag corn chips

1 cup grated cheese

2 cups corn kernels

2 avocados

½ cup sour cream

1 teaspoon salt

1 lime, plus extra wedges for serving

2 cups shredded red cabbage

¼ cup pickled red onion

Diced red chilli & coriander to serve
Method:
Preheat oven to 200°C.
Spread the corn chips on a large baking tray and sprinkle over the cheese and corn kernels. Bake in the oven for 10 minutes until the cheese is golden and melted.
While the corn chips are in the oven, place 1 avocado, sour cream, lime juice and salt in a blender and blitz until smooth. Or for a chunkier version, mash all the ingredients together in a bowl. Place in the fridge until you're ready to serve.
When the corn chips are ready, top with the red cabbage, Meal Maker Shredded Chicken, pickled onions and the remaining avocado diced into cubes. Dollop on the avocado dip and sprinkle with chilli & coriander.
Rate this recipe
Share this recipe